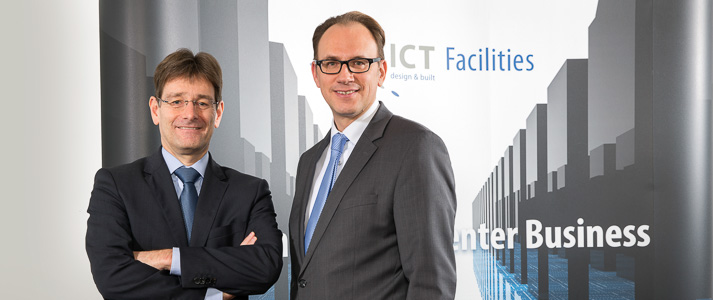 ICT Facilities advises, plans and builds tailor-made data centers for its customers with highest quality. Whereas for other providers data centers are only side issues, ICT Facilities is exclusively concentrating on the development and realization of holistic data center solutions.
Being aware of the processes of its customers, ICT Facilities knows exactly the own laws of data centers. For its customers and in order to ensure the success of the project, ICT Facilities combines all necessary ressources and competences in a goal-oriented manner. The client can be sure that the leading of the processes – from planning to realization – is fully taken over and guaranteed by ICT Facilities in order to achieve project success. Thus, ICT Facilities is creating leadership projects for your company along the entire value chain.
But apart from that the customer can access quite flexibly to the highly specialized team as well as to the extensive range of services: either through partial orders, consulting services or as general contractor for turnkey data centers. Furthermore, the client can access via LEAD and PRIME data center systems to highly standardized modules. On request, the client will be supplied with an individual solution.
Although founded in 2015, ICT Facilities is one of the leading companies on the data center market segment due to its competence and its strategic vision. As an independent start-up company we have the opportunity to directly make everything right.
Experience meets Innovation – Innovation meets Experience
Our ICT Facilities employees have specialized know-how and longterm – national and international – project experience. At the same time we are aware of the innovations in the industry and, with the development of LEAD and PRIME Data Center, we have advanced our own innovations which save time and money. Furthermore, it is the philosophy of ICT Facilities to move away from the classic supplier thinking. Through the establishment of strong and sustainable technology partnerships, we form a leadership competence team and can therefore benefit from the additional innovation potential of our partners which we use for the advantage of your projects.
Our excellent knowledge, our high degree of networking in the industry and our performance power allow us to reliably take over responsibility for our customers' projects.
ICT LEAD Data Center – Setting the standards
ICT LEAD Data Center enables the holistic approach (Lean Managment) with the ambition to achieve the highest Efficiency, the exact Availability and the fulfillment of a modular, flexible and scalable data center under consideration of a dynamic process control (Dynamic). This is the demand and passion of the ICT Facilities' understanding of performance.
This approach has given rise to the product innovation LEAD Data Center LDC which is setting new standards on the market.
LEAD DATA Center LDC offers:
Innovative, flexible and long-lasting data centers
Planning and design according to recognised certification standards (TÜV TSI Level 1-4)
Scalability of the IT technology as well as the technical building orientation
Lowering operating costs while having highest availability (PUE-value < 1,3)
Current and future requirements of the users will be considered
Realization of an intelligent and modular building concept
Implementation of an operation-optimised planning with optimal processes
Design and execution according to Lean Management principles (Last Planner System)
Implementation of the LEAD-principles along the value-added chain
ICT PRIME Data Center - Modular and scalable data centers
Leading the Data Center Business
The ICT PRIME Data Center solution offers real modularity with scalable surface. ICT Facilities combines great project experience and comprehensive technical know-how with the perfection of prefabricated modules of ADK, who is one of the leading companies on this sector. With this innovative solution we support your new data center and help you to achieve a positive business development.
The speed of implementation of your data center project is the key to your success. Now it is PRIME-time!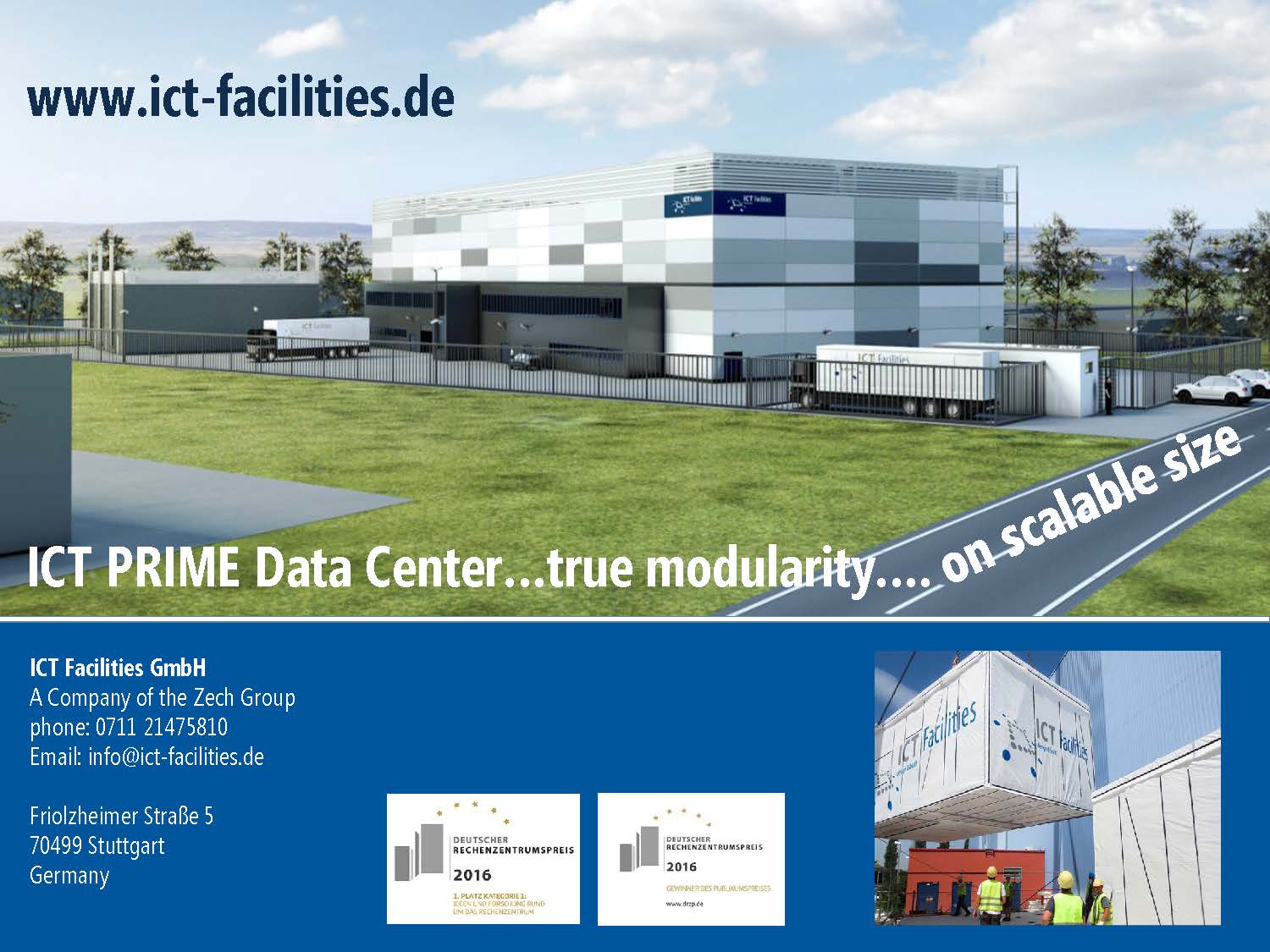 ICT AllInfraBox, the safe and compact infrastructure for small and medium-sized companies
The ICT AllInfraBox, the compact data center on only one square meter, ensures the safe and economical operation of your IT systems as well as the protection of your essential data. This smart solution for small and medium-sized IT-structures will be already delivered including rack, power supply, power distribution, cooling system and monitoring.
If required, we can talk to you personally about further clever ideas in order to protect your most important IT-systems, such as 2N-redundant cooling system or the optional active and passive fire protection.
This link is leading you to the separate Microsite of the ICT AllInfraBox.
Here you receive all information round about the safe, compact and economical All-in-One solution for your IT-systems.